Hypnosis will not be held in the 2015 season.
Saturday, August 16 to Sunday August 17, 2014
7:00PM – 60 Km Solo
7:30PM – 25 Km Solo & Relays
8:00PM – 10 Km Solo
Estrella Mountain Regional Park, Goodyear, AZ
Hypnosis is the fourth of five races in the Insomniac Night Trail Series. Choose from solo distances of 10K, 25K and 60K or form a relay team with either 3 or 6 members.
Trails at Estrella Mountain Regional Park, Avondale, AZ.
Course Summary
Rolling desert trails on single track and dirt road with fast smooth sections and challenging mountainous sections.  Conquer the difficult Rainbow Valley and the fast Coldwater trails. Featuring a long loop and a short loop, runners will experience a variety of conditions and challenges.
Weather
Forecast for Goodyear, AZ
Cut-Off
Final cutoff is 7 AM (12 Hours).  Runners must leave for their final long loop by 3 AM (8 hours) and their final short loop by 5:30 AM (10.5 Hours).
Race Perks
Trucker hats and two-tone sunglasses to all runners
Chip timed race results displayed at finish line
Scenic and challenging course on desert trails
Well stocked aid stations
Iced Coffee Bar
Post race food & socializing
Awards
Awards to top male, female, and mixed (at least 1/3 women) teams, top male and female in the solo division. All finishers will receive a finisher award.
Team Formation
Runners looking for team members are encouraged to post on our Facebook group: https://www.facebook.com/InsomniacNightSeries
Team Setup
Teams can consist of 6, 3, or 1 member.  Men's teams consist of all men.  Women's teams consist of all women.  Mixed teams consist of men and women, at least 1/3 women.
Team Captain
Each team will have one captain.  The captain is responsible for registering the team, picking up the team bib and registration items, and managing the team members.
Team Member Changes
The team captain can manage and change out the team members through Ultrasignup.com up until registration closes.  After this point changes to the team roster cannot be made.
Course Loops
The race consists of six loops, starting and ending in the Ultracity.  The first, third, and fifth loops will be on the long loop, and the second, fourth, and sixth loops will be on the short loop.  Relay members will complete loops as follows:
| | | | | |
| --- | --- | --- | --- | --- |
| | Length | The 6 | The 3 | The Solo |
| Loop 1 | Long | Runner A | Runner A | Runner A |
| Loop 2 | Short | Runner B | Runner B | Runner A |
| Loop 3 | Long | Runner C | Runner C | Runner A |
| Loop 4 | Short | Runner D | Runner A | Runner A |
| Loop 5 | Long | Runner E | Runner B | Runner A |
| Loop 6 | Short | Runner F | Runner C | Runner A |
Entry Fees
| | | | | |
| --- | --- | --- | --- | --- |
| | Until 6/20 | Until 7/18 | Until 8/12 | After 8/12 |
| The 6 Relay | $300 | $330 | $360 | $400 |
| The 3 Relay | $180 | $195 | $210 | $225 |
| 10 Kilometer Solo | $45 | $50 | $55 | $60 |
| 25 Kilometer Solo | $55 | $60 | $65 | $70 |
| 60 Kilometer Solo | $70 | $75 | $80 | $85 |
Goodies guaranteed on race day if registered by 7/18, otherwise will be sold on race day if available.
Entrant Limit
800 Runners
Registration Options
Online through Ultrasignup.com
Mail-In Entry – Solo (PDF)
Mail-In Entry – Relay (PDF)
Online registration closes on 8/12 at midnight. Registration available after at packet pickup and race day.
Camping & Tent Rental
Tent rentals are available for relay teams for the duration of the race.  Tents make a great place to stash your gear, hang out, or catch some sleep between your legs.  Tents will be set up when teams arrive, and do not need to be broken down when teams leave.  Large tents are available for a $60 rental fee and are big enough to stand in and fit an entire team.  Small tents are $25 and generally accommodate 1-2 people.
Bib/Shirt Pickup

Thursday, August 14
Packet Pickup 4:00-7:00PM
Group run 5:30-6:30PMiRun Phoenix
4730 E. Indian School Rd. #125
Phoenix, AZ 85018
(602) 368-5330
Friday, August 15
Packet Pickup 4:00-7:00PM
Sole SportsTempe Location
1006 E Warner Rd
Suite 104
Tempe, AZ 85284
Saturday, August 16
Race Day Pickup 6:00-7:45PM
Estrella Mountain Regional Park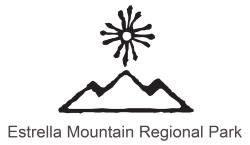 Course Info
The course features two loops.  The short loop runs along the Butterfield trail, while the long loop takes the epic Rainbow Valley trail.  Both will offer stunning views of the Estrella Mountains and a mesmerizing  view of the course as a stream of headlamps move throughout the night.  Both courses will join up partway through, returning to the start line together along the Coldwater trail.
Short Loop Length: 10 KM (6.2 Miles)
Long Loop Length: 15 KM (9.3 Miles)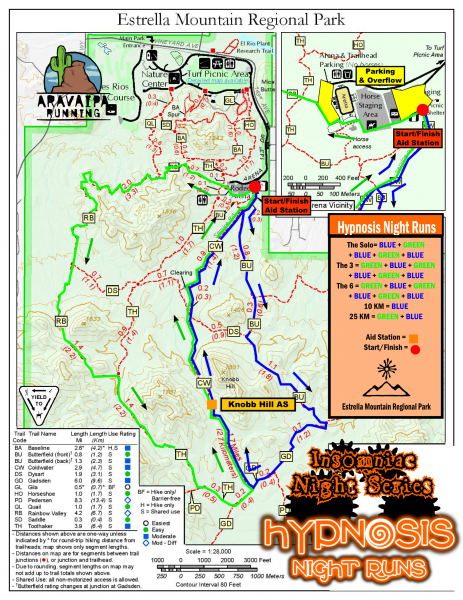 Courses
Short – 10 KM| Elevation Profile | GPX
Long – 15 KM | Elevation Profile | GPX

Short Course Elevation

Long Course Elevation

Race Day Schedule
Please arrive early to park, check in and warm up prior to your run. Restroom facilities are located at the start line at a permanent park facility.
6:00 PM – Packet pickup / race day registration begin
7:00 PM – 60 KmSolo Start Time
7:13 PM – Sunset
7:30 PM – 25 Km Solo & Relay Start Time
8:00 PM – 10 Km Solo Start Time
11:22 PM – Moon rise
3:00 AM – Cutoff to continue on 5th (3rd long) loop.
5:30 AM – Cutoff to continue on 6th (3rd short) loop.
5:52 AM – Sunrise
7:00 AM – All Relays End
Moon Phase
Waning Gibbous- 58% Illumination
11:22 PM – Moon rise
Park Entry Fee
Remember the park charges a $6 park entry fee per vehicle. Please arrive early and have correct change (cash) available on race afternoon/evening for a smooth entry process. Carpool to save!
Trail Running & Trash
Please respect the trails and the beauty of the desert by disposing of any trash at one of our aid stations.
Race Timing
We will be utilizing a chip timing system at this event to record your time at the finish.  You will be provided with a timing chip attached to the back side of your bib.  Please do not crease or fold your timing chip in any way, or we may not record your time.  Each relay team will share one bib, connected to a bib belt for easy transfer.
Drop Bags & Crews
Drop bags are only allowed at the start/finish line. There are no provisions to haul drop bags out to the remote aid station. Crews are welcome to assist their runner at the start area only.
Pacers
Pacers are allowed for the 64k  starting with the fourth loop (35k).  Pacers are not allowed for any other distance or for relays.
Pets
For the safety of all runners, no pets are allowed on-course at the night runs.  Any pets at the race must be on a leash at all times, respect park rules, and be supervised.
Aid Station Helpers
Sign Up Here
Course Markings
The race courses will be well marked with orange plastic ribbons with black polka dots, reflective markers and glow lights. Trail junctions and turns will be well marked with laminated signs. In addition, blue & white checkerboard plastic flagging will be hung to designate non-race or "WRONG WAY" trails. All runners are responsible for understanding the layout of the course. Please familiarize yourself with the course maps on our website prior to race day and/or print a map to bring along with you.
Parking / Start Area
The race start will be in the park's south lot east of the horse arena.  Follow the main park road 2 miles, then enter the dirt lot when the Ultracity is visible.
---
Directions
From central Phoenix, take I-10 west to Estrella Parkway exit. Travel south to Vineyard Ave. Turn east on Vineyard Ave. to the Estrella Mountain Regional Park entrance on the south side.

Address
Use the below address to find your way to the park!
14805 West Vineyard Avenue
Goodyear, AZ 85338