We are pleased to announce that in conjunction with the Western States 100 Mile Endurance Run that the 2017 Black Canyon 100K will again be part of the Altra Golden Ticket Race Series. Top runners will again be able to race their way into the 2018 Western States 100 which has already filled via their annual lottery earlier this month.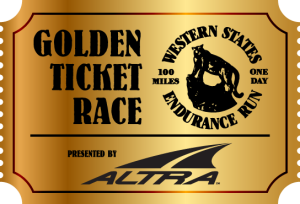 The top two (2) female and top two (2) male finishers in each individual race in the Altra Golden Ticket Races will automatically qualify for entry into the 2017 Western States 100 event. In the case that the first, or second place participant is already in Western States (or decides to opt out), the automatic bid will slide to third place, fourth place, and subsequently down to fifth place as needed (no places below fifth will be accepted). Winners will receive their invitation via email and have two weeks from the qualifying race to complete the registration, including paying the entry fee.
Last year, Sage Canaday & Charlie Ware placed 1st and 2nd earning them spots in the 2016 Western States 100. For the women, it was Amy Sproston & Denise Bourassa who took home top honors.
Additionally, all runners completing the full 100K course in under 17 hours will qualify for the 2018 Western States 100 lottery to be held in December 2017.
Registration is still open but filling fast! There are currently just 95 spots remaining in the 400 runner field in the 100K distance. Don't miss out on this classic Sonoran desert point to point gem of a course!