Crown King Scramble 50 Km
Lake Pleasant to Crown King, Ariz.
Jeep roads, 6,000′ climb – March 19, 1994
Two course records were set at the eighth annual Crown King Scramble. Rick Stuart (4:17), also the 1993 winner, broke Eric Benson's 1992 record by five seconds, while Julie Arter (5:07) broke the 1993 record of Sherry Johns by over five minutes. For Julie it was a reversal from 1992 when She finished second, just one second behind Sherry. Sherry was unable to compete this year due to a broken bone in one of her legs.
The race follows a part of the old stagecoach route from Phoenix to Prescott, and for the second year in a row, over 100 runners completed the scenic and demanding uphill course. The weather at the start was overcast and mild, but by the end of the race, it was chilly and raining. The awards ceremony and banquet were moved inside the historic Crown King Saloon.
Tony Grappo from Las Vegas was a strong second, while Doug Frost ran a personal best to finish third; Doug has now finished in the top four five straight times. Tracey Varga edged two-time winner Lorraine Gersitz for the second place for the women. Debbie Gobins continued her streak of being the only runner to finish all eight Crown King runs.
Race Director Linda Van Tilborg and her crew of volunteers did an outstanding job of organizing and staging Arizona's largest and most competitive ultra. Again Dave Selzer did a great job at the finish line and the awards ceremony. Race co-founder Bruce Wise was honored at the awards ceremony for his many contributions to the Crown King 50 Km.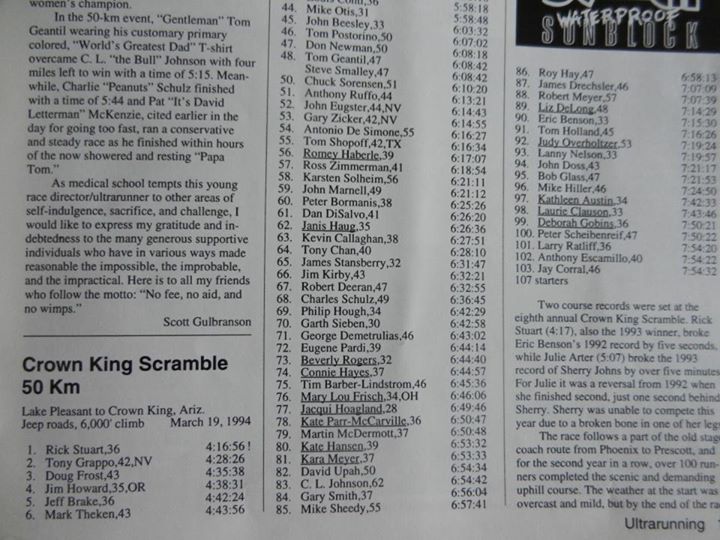 Author: Pat McKenzie
Reprinted with permission from Ultrarunning Magazine Vol. 14, No. 1, May 1994