Crown King Scramble 50 Km
Lake Pleasant to Crown King, Ariz.
Jeep roads, 6,000′ climb – March 25, 1995
The weatherman stretched the truth just a little for the ninth edition of the Crown King Scramble. At the start line at 1,500 feet it was clear and chilly (40 degrees). The cool and clear was supposed to hold through the weekend. As the field of 128 runners made their way up to 7,000 feet, the clouds rolled in, bringing a cold drizzle and some spitting snow about four and a half hours into the race. Up front, of course, Rick Stuart had finished and beat the weather just like he did in 1994, even though he was five minutes slower than last year's record run. Another first-time ultrarunner Darryl Wagner of Tucson, started ten minutes late. He passed Stuart at mile 15 only to burn himself out after playing catch-up; he still finished third overall. Earl Towner of Corona del Mar, California was first master, nine minutes behind Stuart, followed by Wagner and notable ultra man Rae Clark.
For the women, local super-marathoner and Olympic Marathon Trails hopeful Angela French set a course record, bettering Julie Arter's 1994 record by four minutes, despite the fact that the last 16 miles, affectionately known as "16 Mile Hill," were in worse shape that usual after heavy spring rains. And this was Angela's first ultra. Sherry Kae Johns, another local superstar was second (and first master). Johns used Crown King to return to ultrarunning following a tibial stress fracture in 1993. Another Arizona marathon specialist, Tracey Varga, was third in her second try at Crown King.
Runner's comments were the usual: "Great views; it takes forever to climb out of the Ore Belle canyon; quads were trashed, so the two-mile screaming downhill into Crown King even hurt; great weather; entertaining and solicitous aid stations; darn nice cardigan; great people!"
The 10th Annual will be a big one – wonder what the weatherman will predict for March 24, 1996?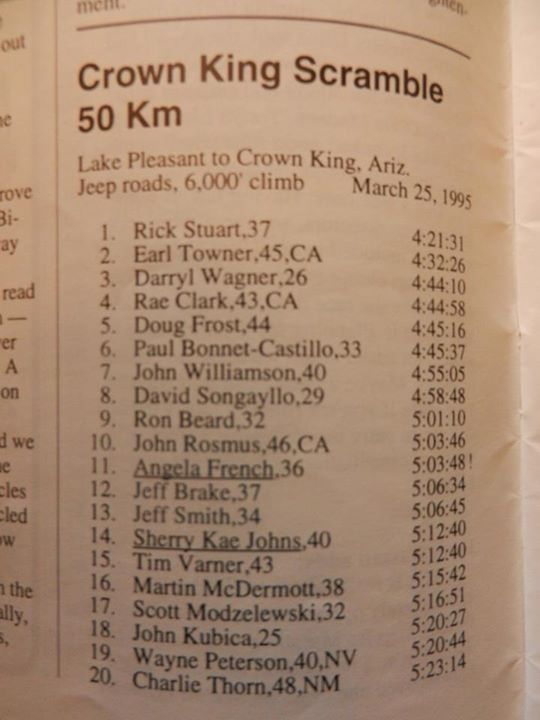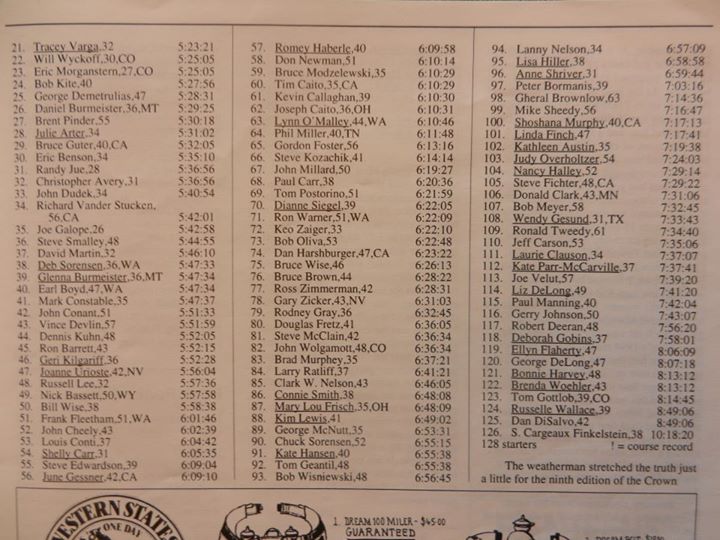 Author: Linda Van Tilborg
Reprinted with permission from Ultrarunning Magazine Vol. 15, No. 1, May 1995