Start Location
Castle Creek Boat Ramp within Lake Pleasant Regional Park
Access Castle Creek Boat Ramp from the North Entry Station on Castle Creek Drive
Finish Location
The Crown King Saloon in Crown King, Arizona
Course Summary
50 kilometer point to point on dirt roads from Lake Pleasant Regional Park to Crown King. The race starts on the shores of Lake Pleasant, a Maricopa County Regional Park on the outskirts of Phoenix in the Sonoran Desert. The first 15 miles is on maintained dirt roads winding through the desert amidst saguaro cactus and rolling hills. Upon reaching the mile 15 aid station, the true climbing begins and the course enters a 4×4 jeep road that features steep climbs, a few descents and a 4,000 foot climb to the high point of the course above Crown King at mile 29. The race tops out in the Ponderosa pines of the Prescott National Forest and the race ends with a 2 mile screaming downhill into the finish at the Crown King Saloon.
Early Start
There is no longer an option for an early start. All cutoffs have been extended by one hour to give runners 10 hours to complete the course.
Weather
Forecast for Start: Peoria, AZ
Forecast for Finish: Crown King, AZ 
This race can feature hot and cold temperatures! Crown King weather can vary each year.
If it is hot it can reach highs into the nineties for Phoenix.  For those of you from out of state or not fully acclimated to the heat, expect to really feel the heat from mile 15 up until mile 28 (about 9am to 2pm). These miles are mostly exposed to the sun and in a canyon that will trap the heat. Please take care of yourself by planning to carry at minimum 2-3 water bottles (50-70 ounces) through this section (more if you drink a lot normally). Wear a hat and dunk your head in water at stream crossings to cool yourself down and be careful on your exertion level through here. Remember this is a very remote part of the Arizona desert and medical help is both limited and expensive if things really go wrong.
Bib/Shirt Pickup
Thursday, March 22
Packet Pickup 4:00-7:00PM
iRun Phoenix
or
Saturday, March 24
Packet Pickup: 5:15-5:45AM
Castle Creek Boat Ramp
Lake Pleasant Regional Park
Aid Stations
Five aid stations on course providing water, electrolyte drink, fruit, sweet snacks, & salty snacks.
#1 – Cow Creek Aid – Mile 8.5
#2 – French Creek Aid – Mile 15.3 (Drop Bags)
#3 – Silver Mountain Aid – Mile 19.1
#4 – Fort Misery Aid – Mile 22.3
#5 – Oro Belle Aid – Mile 27.0
Finish – Crown King Saloon – Mile 31.1 (Drop Bags)
There will be a best aid station contest! All finishers of the race will vote on their favorite aid station along the course.
Race Perks
Soft tri-blend race shirt (Men's & Women's styles)
Finisher Hoody
Scenic and challenging course on dirt roads
Well stocked aid stations every 3.2-8.5  miles
Finisher mason jar beer mug
Post race barbecue included with entry, live band, party, & socializing
Beer available for purchase at the finish line! (bring cash & support the town)
Photography
To capture both your pain and euphoria along the way SweetM Images will be out on the course. With SweetM Images you get photographers who are also runners and understand what your race photos mean to you!
SweetM Images
Awards
Awards to top 3 male & female finishers
Awards to top masters male & female
All finishers will receive a finisher's mason jar beer mug
All finishers will receive a finisher's hoody (unless opted out during registration)
Prize Money
$250 for first place male & first place female
$1,000 bonus for a new men's course record
$1,000 bonus for a new women's course record
UTMB Points
Crown King Scramble 50K will be 3 points for the 2018 UTMB.
Shuttle
We will have a one-way shuttle option available after the race leaving at 3:30pm going from the finish line at the Crown King Saloon back to the start at Lake Pleasant Regional Park. You can now book the shuttle for $40.00 per person through the mail-in form or online.
Cut-Offs
All cutoffs will be strictly enforced. With the point-to-point nature of this event, our medical, aid station and communications volunteers must stick to the following schedule for the overall safety of all runners on the course. Failure to comply with cutoffs will result in disqualification from all future Aravaipa Running events.
10:30AM at French Creek – Mile 15.0 (3 hours 30 min)
4:00PM at Finish in Crown King – Mile 31.1 (9 hours)
Race Day Schedule
Please arrive early to park, check in and warm up prior to your run. Restroom facilities are located at the start line at Lake Pleasant Regional Park.
5:15 AM – Check-in begins
5:30 AM – ALL DROP BAGS MUST BE AT START!
5:50 AM – Begin Civil Twilight
5:50 AM – Race Briefing
6:00 AM – 50 K Race Start
6:15 AM – Sunrise
10:30 AM – Cutoff – French Creek Aid (Mile 15.3)
11:00 AM – BBQ Lunch begins in Crown King
4:00 PM – Final Cutoff – Crown King Saloon (Mile 31.1)
4:30 PM – Van Shuttles leave Crown King (RSVP & pre-payment required)
Evening – Party & music in Crown King
Trail Running & Trash
Please respect the trails and the beauty of the land by disposing of any trash at one of our aid stations.
Race Timing
All runners will be provided with a race bib that must be worn at all times during the race.  You will be checked in and out of all aid stations on the course. There will be chip timing at the finish line and your result will show up on the display screen.
Drop Bags
Drop bags are only permitted at French Creek Aid Station and the Finish. Please label your drop bag with the appropriate aid station name, your bib number, last name and place next to the aid station signs at the start on race morning. ALL DROP BAGS MUST BE AT THE START LINE BY 5:30AM! Drop bags will be returned to the finish line in Crown King when French Creek Aid Station closes down.
Crewing
Due to the remote nature of the course, there are no crews allowed.
Pacing
Due to the remote nature of the course, there are no pacers allowed.
Runner Tracking
Amateur radio volunteers from Maricopa County Emergency Communications Group wearing orange vests will be located at each aid station along the course. They will be recording runner bib numbers as they pass through aid stations and be in contact with the finish line throughout the day.  If there is a problem somewhere along the trail, please report to the next aid station team.
Aid Station Helpers
This event would not be possible without the help of dozens of volunteers who will be working aid stations, staffing medical checkpoints, operating amateur radio for communications, hauling supplies and runners in 4×4 vehicles and offering hospitality in the town of Crown King itself. Sign up here!
Course Markings
The course will be well marked with orange plastic ribbons with black polka dots. Trail junctions and turns will be well marked with yellow laminated signs. Please pay attention to these signs at each junction. In addition, WRONG WAY flagging (blue & white checkerboard) and pink signage will be posted to designate non-race trails. All runners are responsible for understanding the layout of the courses. Please familiarize yourself with the course maps on our website prior to race day and/or print a map to bring along with you.
Transportation
This is a point to point course and no transportation is provided by Aravaipa Running.  All participants are responsible for getting themselves to the start line and home from the finish line.  You may be able to car pool with other race participants to and from the start/finish lines, otherwise plan on having a support person help you with transportation. There will be a shuttle van ride available leaving Crown King on race day at 3:30pm driving back to the start at Lake Pleasant for an additional fee.
Camping
Camping is permitted near the start in Lake Pleasant Regional Park. Please contact them for fees and permitted areas.
Lodging
We encourage all runners to make a weekend out of their Crown King Scramble experience and stay in Crown King with us after the race.  There will be a music in the evening and plenty of stories to share over a beer or two at the Saloon! Lodging options:
Bradshaw Mountain Guest Ranch – Also ask about the Crown King Bunk House! (sleeps 4 to a room for $125/room)
Parking / Start Area
The start is located at Castle Creek Boat Ramp at the north end of Lake Pleasant Regional Park.
Directions to Start at Lake Pleasant – Castle Creek Boat Ramp
From central Phoenix, take I-17 north to Carefree Highway (SR 74). Exit Carefree Hwy. and travel west 11.5 miles to Castle Hot Spring Road. Travel north 4.6 miles to a "T" intersection and turn right onto Castle Creek Drive and the North Entry Station. Go 1.1 miles past the North Entry Station to the Castle Creek Boat Ramp. There will be parking on the right as you approach the boat dock (look for a parking volunteer) and drop off located directly at the boat ramp.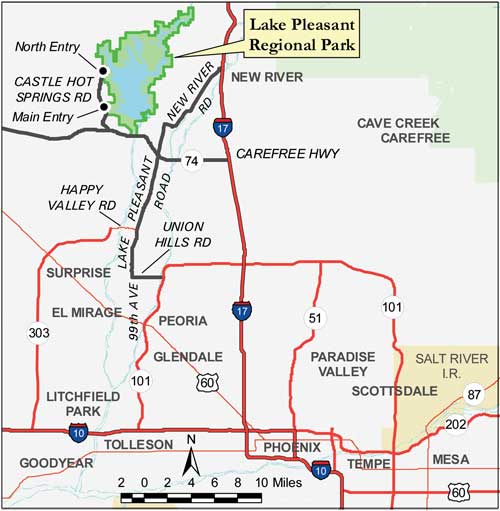 Directions to Finish in Crown King
From the starting line at the Castle Creek Boat Ramp at Lake Pleasant, drive back out Castle Creek Drive 1.1 miles. Turn left onto Castle Hot Springs Road and drive 4.6 miles to Carefree Highway (SR 74). Turn left onto Carefree Highway and drive 5.1 miles to New River Road. Turn left onto New River Road and drive 10.4 miles to Interstate-17. Head North on I-17 towards Flagstaff for 16.0 miles and take exit 248 towards Bumble Bee/Crown King. Follow signs towards Crown King from here, driving 26 miles along dirt roads past the town of Cleator up to Crown King.