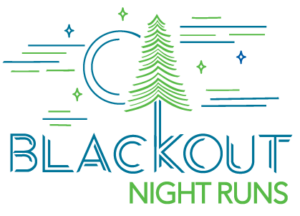 Friday, June 8, 2018
7:00PM – 27 Km
7:30PM – 13 Km
8:00PM – 6 Km
Fort Tuthill County Park, Flagstaff, AZ
Blackout is the third race in the Insomniac Night Trail Run Series.  We will again have the Blackout trail runs Friday night and the Flagstaff Extreme Big Pine trail runs Saturday morning.
Location
Fort Tuthill County Park
Flagstaff, AZ
Course Summary
All 27 Km and 13 Km runners will get to experience both the Soldiers Trail and Highlands Trail Loop which winds through the ponderosa pines above 7,000 ft,  eventually topping out on a mesa with expansive views of starry skies over dark mountain backdrops before being enveloped back into the trees. The trail ranges from narrow single track to wide well-maintained forest paths. The course is well graded for beginners while allowing the more experienced runner to stretch their legs and gun for a fast time while still maintaining the challenge of being at a higher elevation. The course is designed as a multi-loop race with the 27 Km doing 2 full circuits. 6 Km runners will stay on the Soldiers loop trail & Bridge Trail inside Fort Tuthill County Park.
Weather
Forecast for Flagstaff, AZ
Cut-Off
 5 hours for the 27 Km (12:00AM).  All 27 Km runners must leave on their second and final loop by 9:30PM (2.5 hours into the race).
Race Perks
Headwrap & Sunglasses
Chip timed race results displayed at finish line
Scenic and challenging course on forest trails
Well stocked aid stations
Post race food & socializing
 Cup-less Events (reusables will be available for purchase or bring your own!)
Awards
Awards to top 3 male & female finishers at each distance. All finishers will receive a finisher award.
Race Day Schedule
Please arrive early to park, check in and warm up prior to your run. Portable restroom facilities are located at the start line.
5:30 PM – Packet pickup / race day registration begins
7:00 PM – 27 Kilometer Start
7:30 PM – 13 Kilometer Start
7:39 PM – Sunset
8:00 PM – 6 Kilometer Start
8:09 PM – End Civil Twilight
9:30 PM – 27 Km runners must leave on final (2nd) loop
12:00 AM –  Overall cutoff / Race ends
Moon Phase
Waning Crescent – 33% Illumination
Moonrise – 1:54 AM
Moonset – 2:13 PM
Trail Running & Trash
Please respect the trails and the beauty of the desert by disposing of any trash at one of our aid stations.
 All Insomniac Night trail runs will be CUP-LESS. Bring your own or Aravaipa branded reusable cups will be available for purchase!
Race Timing
We will be utilizing a chip timing system at this event to record your time at the finish. You will be provided with a timing chip attached to the back side of your race bib. It is important to not crease, or fold the the timing chip to ensure your finish time is read.
Drop Bags
You may have a drop bag at the start/finish line to be accessed each loop.
Crews
Crews are allowed at the race start/finish only.
Pacers
Pacers are not allowed.
Pets
For the safety of all runners, no pets are allowed on-course at the night runs.  Any pets at the race must be on a leash at all times, respect park rules, and be supervised.
Aid Station Helpers
Sign Up Here
Course Markings
The race courses will be well marked with orange plastic ribbons with black polka dots, reflective markers and glow lights. Trail junctions and turns will be well marked with laminated signs. In addition, blue & white checkerboard plastic flagging will be hung to designate non-race or "WRONG WAY" trails. All runners are responsible for understanding the layout of the course. Please familiarize yourself with the course maps on our website prior to race day and/or print a map to bring along with you.
Parking / Start Area
There will be ample parking at the Trailhead Staging parking lot for everyone to park within a couple minute walk to the starting line.
Registration Options
Online through Ultrasignup.com
Mail-in Entry
Online registration closes on 6/5 at 11:59 PM. Registration available after at packet pickup and race day.
Entry Fees*
| | | | | |
| --- | --- | --- | --- | --- |
| | Until 3/25 | Until 5/8 | Until 6/5 | After 6/5 |
| 6 KM | $32.07 | $37.42 | $42.76 | $48.11 |
| 13 KM | $37.42 | $42.76 | $48.11 | $53.45 |
| 27 KM | $48.11 | $53.45 | $58.80 | $64.14 |
Goodies guaranteed on race day if registered by 5/8, otherwise will be sold on race day if available.
*Prices includes Coconino County or State of Arizona Amusement Tax which is 6.900%
Entrant Limit
400 Runners
Camping & Tent Rental
We are excited to offer several camping and tent rental options at the 2018 Big Pine and Blackout Night Runs. Aravaipa Running has reserved the entire North Overflow camping area right by the start/finish. Tent camping passes are $35 each and include both Friday and Saturday nights. For RV camping please contact the Fort Tuthill campground directly-this area will sell out.
The camping area opens Friday, June 8 at 12:00 PM for camping setup.
Tent and cot rentals will be available for your convenience. These will be located at the same North Overflow camping area directly next to the start/finish. You may reserve a tent and/or cot when you register for the race or sign-up with the link below.
All rentals will be setup when you arrive, so all you have to do is bring in your sleeping bag and gear and you will be all set. You may check in to your tent anytime after 2:00 PM on Friday, June 9th. Tents will be checked into on a first come, first served basis.
Small Tents – These are 7 feet by 7 feet, a simple two person camping tent that is tall enough to sit up in, but not to stand. Cot rentals are not available for small tents.
Large Tents – These are 8 feet by 12 feet and are large enough to stand up in (for most people) and may also fit two cot rentals.
Bib/Shirt Pickup

Thursday, June 7
Packet Pickup 5:00-7:00PM

iRun Shop
4730 E Indian School Rd
Suite #125
Phoenix, AZ 85018
602-368-5330
Friday, June 8
Race Day Pickup 5:30-7:45PM
Fort Tuthill County Park
2446 Fort Tuthill Loop
Flagstaff, AZ 86005
Course Map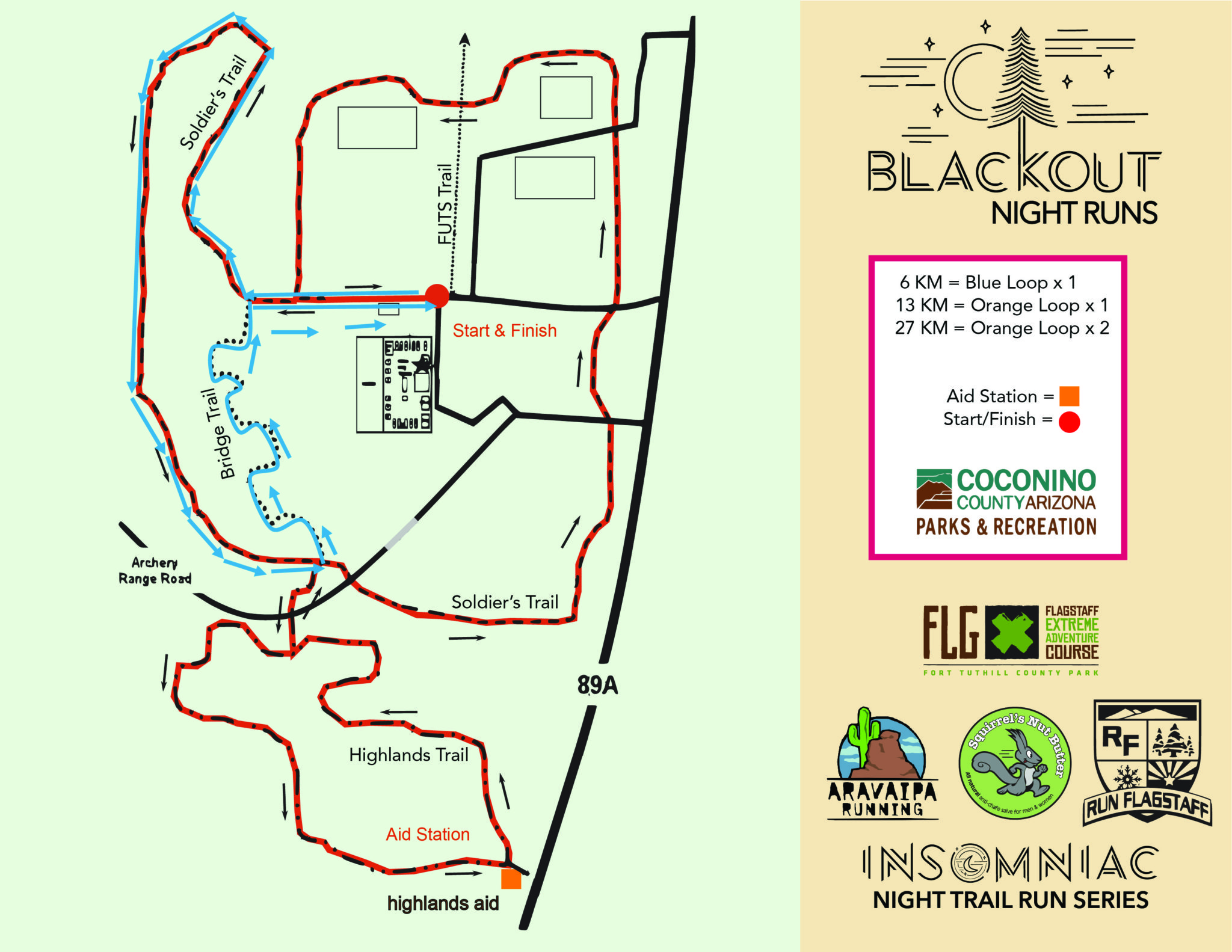 Elevation Profiles


6 Km Elevation Profile ~ 149 feet of Gain



13 Km Elevation Profile ~ 635 feet of Gain



27 Km Elevation Profile ~ 1270 feet of Gain



54 Km Elevation Profile ~ 2540 feet of Gain 
Aid Stations
There will be one remote aid station (Highlands Aid- sponsored by Squirrel's Nut Butter) along the loop in addition to the start/finish line.  Aid stations will offer water, electrolyte drink, sweet snacks, salty snacks, and fruit. Please plan to run with at least one bottle of water.
---
Directions
From central Phoenix, take I-17 north to Exit 339 for Lake Mary Road. Exit I-17N and turn Left (West) onto Lake Mary Road. At the 1st cross street, take a left onto Beulah Blvd. Follow the road for 2.3 miles before turning right into the park. Follow signs for Flagstaff Extreme. Parking will be in the lot right before the Flagstaff Extreme ropes course.

Address
Fort Tuthill County Park
Flagstaff, AZ 86001
 Results
2017| 27 Km|13 Km|6 Km
2016| 27 Km | 13 Km | 6 Km
  2015| 54 Km | 27 Km | 13 Km
Course Records
54 Km | Male – Don Solberg – 5:17:25 ('15) | Female – N/A
27 Km | Male – Gabe McGowan – 1:56:15 ('15) | Female – Adela Salt – 2:536:28 ('17)
13 Km | Male – Jim Walmsley –  53:27 ('15) | Female – Jessica Clark – 1:06:43 ('17)
6 Km | Male – Cory Samples – 30:26 ('17) | Female – Allyssa Jones – 32:25 ('17)