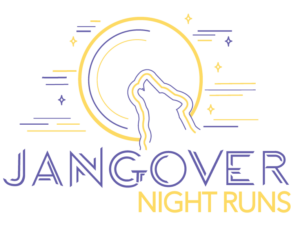 Saturday, September 28 to Sunday September 29, 2019
  7:00 PM – 75 Km
7:15 PM – 50 Km
7:45 PM – 25 Km
8:00 PM – 15 Km
8:15 PM – 7 Km
McDowell Mountain Regional Park, Fountain Hills, AZ
Last night's race at Pemberton was the most well run, most fun, and totally kick ass event I have EVER been to. You folks do an absolutely AMAZING job in all aspects of the race – registration, your website, event amenities, great course, swag, worlds best volunteers, etc etc etc. Seriously, this was the BEST OF THE BEST as far as race events and I can not THANK YOU enough.
David Witko
Jangover is the sixth race in the Insomniac Night Trail Run Series
This race is now part of a five-race Series Pass! Details HERE.
Location
Trailhead staging / Pemberton Trailhead at McDowell Mountain Regional Park
Fountain Hills, AZ Directions
Course Summary
Race distances are multiples of the Pemberton Trail Loop featuring rolling desert single track and old jeep trail; either 25K, 50K, or 75K. There is also a hilly 7K option on the Scenic Trail. Course features ~ 800 feet of elevation gain and loss per 25K loop. No partial laps or mileage will be recorded in official results.  Drop down to shorter races is not allowed.  Runners will be included in the results indicating the distance they did complete in their race but will be listed as a DNF if race distance is not completed.
Weather
Forecast for Fountain Hills, AZ
Cut-Off
Runners who are going for 75K must start their 3rd loop by 3:00am (8 hours into the run).
Race Perks
Tech Shirts
Chip timed race results displayed at finish line
Scenic and challenging course on desert trails
Well stocked aid stations
Iced Coffee Bar
Post race food & socializing
Cupless Events (reusables will be available for purchase or bring your own!)
Awards
Awards to top male & female finishers at each distance. All finishers will receive a finisher award.
Race Day Schedule
Please arrive early to park, check in and warm up prior to your run.
Restroom facilities are located at the start line at a permanent park facility.
6:00 PM – Packet pickup / race day registration begin
6:44 PM – Sunset
7:00 PM – 75K Run Start Time
7:09 PM – Civil Twilight
7:15 PM – 50K Run Start Time
7:45 PM – 25K Run Start Time
8:00 PM – 15K Run Start Time
8:15 PM – 7K Run Start Time
3:00 AM – Cutoff to continue on 3rd loop (75K)
7:00 AM – All Runs End
Moon Phase
New Moon – 0% Illumination
6:00 AM – Moonrise
6:00 PM – Moonset
Park Entry Fee
Remember the park now charges a $7 park entry fee per vehicle. Please arrive early and have correct change (cash) available on race afternoon/evening for a smooth entry process. Carpool to save!
Trail Running & Trash
Please respect the trails and the beauty of the desert by disposing of any trash at one of our aid stations.
Back in 2019: All Insomniac Night trail runs will be CUPLESS. Bring your own or Aravaipa branded reusable cups will be available for purchase!
Race Timing
We will be utilizing a chip timing system at this event to record your time at the finish.  You will be provided with a timing chip attached to the back side of your bib.  Please do not crease or fold your timing chip in any way, or we may not record your time.
Drop Bags & Crews
Drop bags are only allowed at the start/finish line. There are no provisions to haul drop bags out to the Granite Tank Aid Station. Crews are welcome to assist their runner at the Pemberton Trailhead only (start/finish). Crews are not allowed to drive out to the Granite Tank aid station or access the trail in any other way.
Pacers
A pacer may join a runner on the 3rd loop (after finishing mile 30.8). If you would like a pacer for an earlier lap, please have them register for the event.
Pets
For the safety of all runners, no pets are allowed on-course at the night runs.  Any pets at the race must be on a leash at all times, respect park rules, and be supervised.
Aid Station Helpers
Sign Up Here
Course Markings
The Pemberton trail is well marked with permanent park signs at each trail junction. There will be reflective medallions hanging from our orange and black ribbons around the entire loop as well (approximately every 1/2 mile and at all trail junctions). In addition, WRONG WAY signs will be posted to designate non-race trails. All runners are responsible for understanding the layout of the course. Please familiarize yourself with the course map on our website prior to race day and/or print a map to bring along with you.
Parking / Start Area
The start/finish line is located at the Trailhead Staging Area / Pemberton Trailhead.
Javelina Jangover 2016
Javelina Jangover 2014 (By: Jubilee Paige)
Javelina Jangover 2013
Registration Options
Online through Ultrasignup.com
Mail-In Entry Form (PDF)
Online registration closes on 9/24 at 11:59 PM. Registration available after at packet pickup and race day.
Entry Fees
| | | | | |
| --- | --- | --- | --- | --- |
| | Until 6/25  | Until 8/12 | Until 9/25 | After 9/25 |
| 7KM | $37.21 | $42.52 | $47.84 | $58.47 |
| 15KM | $42.52 | $47.84 | $53.15 | $63.78 |
| 25KM | $47.84 | $53.15 | $58.47 | $69.10 |
| 50KM | $63.78 | $69.10 | $74.41 | $85.04 |
| 75KM | $79.73 | $85.04 | $90.36 | $100.99 |
Goodies guaranteed on race day if registered by 8/21, otherwise will be sold on race day if available.
Entrant Limit
400 Runners
Camping
McDowell Mountain Regional Park offers 76 individual sites for tent or RV camping. Each site has a large parking area to accommodate up to a 45′ RV and is a "Developed Site," with water and electrical hook-ups, dump station, a picnic table and a barbecue fire ring. All restrooms offer flush toilets and showers. The south loop of the campground also offers handicapped-accessible restrooms. All sites in the campground may be reserved online at maricopacountyparks.org
Bib/Shirt Pickup

Friday, September 27
Packet Pickup 5:00-7:00PM
Fleet Feet Scottsdale
18261 N Pima Rd E 135
Scottsdale, AZ 85255(480) 907-6699
Saturday, September 28
Race Day Pickup 6:00-8:15PM
McDowell Mountain Regional Park
Course Detail (Maps, Elevation Profiles, GPS Tracks)
7 Kilometer | Elevation Profile | GPX | KML 
25 Kilometer | Elevation Profile | GPX | KML 
50 Kilometer | Elevation Profile | GPX | KML 
75 Kilometer | Elevation Profile | GPX | KML 
*Note on GPX files: Right click and select "Save link as…" to download GPX files. GPX files may be opened by downloading the demo version of TopoFusion for free.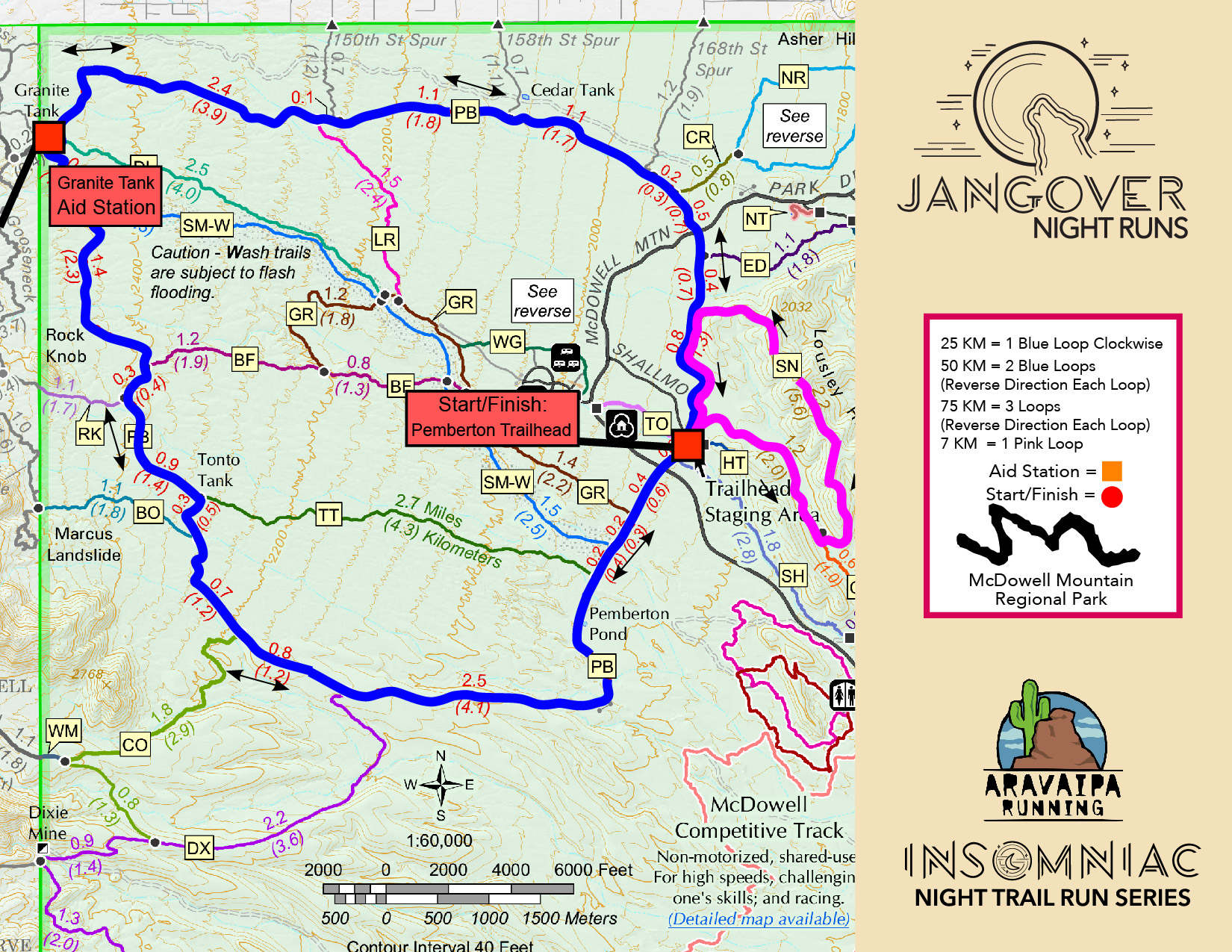 Aid Stations
Fully stocked with water, Gatorade, electrolyte pills, fruit, salty snacks, sweet snacks, and soup. There will be one remote aid station located at Granite Tank in addition to the start/finish line. See chart for aid station distances:
75K
Mileage
50K
25K
7K
Notes
Cut Offs
Jangover Jeadquarters

(Pemberton TH Start)

0.0
0.0
0.0
0.0
7K (Scenic Trail)
–
Granite Tank
10.5
10.5
10.5
–
–
Jangover Jeadquarters
15.7
15.7
15.7
4.3
7K Finish

25K Finsh

–
Granite Tank
26.2
26.2
–
–
–
Jangover Jeadquarters
31.4
31.4
–
–
50K Finish
–
Granite Tank
41.9
–
–
–
–
Jangover Jeadquarters
47.1
–
–
–
75K FINISH
7:00 AM
---
Directions
The closest airport is Phoenix Sky Harbor (PHX) which is a 55 minute drive from the park. Coming from Phoenix, take the Loop 202 East to Country Club Drive/ Hwy 87. Turn left and drive north for 12 miles and turn left on Shea Blvd. Travel .6 miles and turn right on Saguaro Blvd. Take this 4 miles until it ends at Fountain Hills Blvd and turn right. Continue on Fountain Hills Blvd as it turns into McDowell Mountain Drive and look for signs to turn left into McDowell Mountain Park.

Address
McDowell Mountain Regional Park
16300 McDowell Mountain Park Dr.
Fountain Hills, Arizona 85255