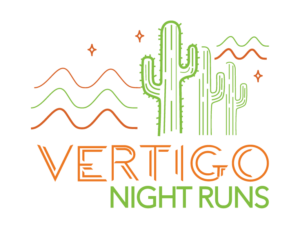 Saturday, August 17 to Sunday August 18, 2019
7:00 PM – 52 Km
7:15 PM – 31 Km
7:45 PM – 20 Km
8:00 PM – 10 Km
8:15 PM – 6 Km
11:00 PM – 20 Km Full Moon Wave!
11:30 PM – 10 Km Full Moon Wave!
White Tank Mountain Regional Park, Waddell, AZ
Vertigo is the fifth race in the Insomniac Night Trail Run Series
This race is now part of a five-race Series Pass! DETAILS HERE!
FULL MOON WAVE!
For 2019, with Saturday night offering a full moon and peaking at 3:00 a.m. we are adding in two additional races where you'll get to run under the full moonlight crossing the midnight hour! Whether you were able to join us for the Sinister Night Runs Full Moon Wave or not, this is a really fun opportunity to run under an actual full moon in the beautiful White Tank Mountain Regional Park!
A new distance added specifically for this race, the 20 Km, will get the Wave kicked off at 11:00 p.m. and the 10 Km (11:30 p.m. start) will count under separate results from the normally scheduled races. Each of these distances will run the same course as the earlier start times.
Double Down!
In 2019, this race will have the unique opportunity to "double down" with our Full Moon Wave races that will begin at 11 p.m. and 11:30 p.m. respectively to give runners a chance to actually run under a full moon at its peak brightness.
Location
Competitive Track at White Tank Mountain Regional Park
Waddell, AZ
Course Summary
All races are held on the 6.5 mile (10.4 kilometer) Sonoran Competitive track loop. The 31K runners will complete 3 loops, while the 52K ultra division will complete 5 loops, passing through the start/finish line after each lap! The Sonoran Loop offers a variety of obstacles to test runners skills. The track consists of steep inclines, swooping turns, technical descents, and rugged terrain.
Weather
Forecast for Waddell, AZ
Cut-Off
10 hours for the 52km (5:00AM).
All 52km runners must leave on their fifth and final loop by 3:00AM (8 hours into the race).
Race Perks
Vertigo branded item for all entrants
Chip timed race results displayed at finish line
Scenic and challenging course on desert trails
Well stocked aid stations
Iced Coffee Bar
Post race food & socializing
Cup-less Events (reusables will be available for purchase or bring your own!)
Awards
Awards to top male & female finishers at each distance.
All finishers will receive a finisher award.
Race Day Schedule
Please arrive early to park, check in and warm up prior to your run.
Restroom facilities are located at the start line at a permanent park facility and/or portable restrooms.
6:00 PM – Packet pickup / race day registration begin
7:00 PM – 52 Kilometer Start
7:06 PM – Sunset
7:15 PM – 31 Kilometer Start
7:31 PM — Civil Twilight
7:45 PM — 20 Kilometer Start
8:00 PM – 10 Kilometer Start
8:15 PM — 6 Kilometer Start
FULL MOON WAVE
11:00 PM — 20 Kilometer Start
11:30 PM — 10 Kilometer Start
3:00 AM – 52 Km runners must leave on final (5th) loop
5:00 AM –  Overall cutoff / Race ends
Moon Phase
Waning Gibbous – 96% Illumination
9:18 PM – Moonrise
3:00 AM — Peak Moon
8:57 AM – Moonset
Park Entry Fee
Remember the park now charges a $7 park entry fee per vehicle. Please arrive early and have correct change (cash) available on race evening for a smooth entry process. Carpool to save!
Trail Running & Trash
Please respect the trails and the beauty of the desert by disposing of any trash at one of our aid stations.
All Insomniac Night trail runs will be CUPLESS. Bring your own or Aravaipa branded reusable cups will be available for purchase!
Trail Etiquette
Remember to always remain on designed trails, no short cutting.
If you decide to use headphones, please be respectful of runners behind you attempting to pass. Also, remove ear buds as you approach aid stations or a road crossing.
This course includes some legit single track. If you are fast and attempting to pass, please alert the runner in front of you before flying past them. Likewise, if you hear a runner approaching you from behind, attempt to find a spot to allow the runner to pass.
As a general rule, when passing a runner, announce, "on your left."
Uphill runners/hikers have the right of way to downhill runners. Remain in control as you descend and respect the other runners.
Everyone is after the same goal here so let's be respectful of each other's races and have fun. Please.
Race Timing
We will be utilizing a chip timing system at this event to record your time at the finish. You will be provided with a timing chip attached to the back side of your race bib. It is important to not crease, or fold the the timing chip to ensure your finish time is read.
Drop Bags
You may have a drop bag at the start/finish line to be accessed each loop.
Crews
Crews are allowed at the race start/finish only.
Pacers
Pacers are allowed for the 52k  starting with the fourth loop (31k).  Pacers are not allowed for any other distance.
Pets
For the safety of all runners, no pets are allowed on-course at the night runs.  Any pets at the race must be on a leash at all times, respect park rules, and be supervised.
Aid Station Helpers
Sign Up Here
Course Markings
The race courses will be well marked with orange plastic ribbons with black polka dots, reflective markers and glow lights. Trail junctions and turns will be well marked with laminated signs. In addition, blue & white checkerboard plastic flagging will be hung to designate non-race or "WRONG WAY" trails. All runners are responsible for understanding the layout of the course. Please familiarize yourself with the course maps on our website prior to race day and/or print a map to bring along with you.
Parking / Start Area
There will be ample parking at the Competitive Track for everyone to park directly adjacent to the starting line.
Registration Options
Online through Ultrasignup.com
Mail-In Entry (PDF)
Online registration closes on 8/13 at midnight. Registration available after at packet pickup and race day.
Entry Fees
| | | | | |
| --- | --- | --- | --- | --- |
| | Until 5/31 | Until 7/30 | Until 8/21 | After 8/21 |
| 6KM | $31.89 | $37.21 | $42.52 | $58.47 |
| 10KM | $37.21 | $42.52 | $47.84 | $58.47 |
| 20KM | $42.52 | $47.84 | $53.15 | $63.78 |
| 31KM | $47.84 | $53.15 | $58.47 | $69.10 |
| 52KM | $63.78 | $69.10 | $74.41 | $85.04 |
| Full Moon 20KM | $42.52 | $47.84 | $53.15 | $63.78 |
| Full Moon 10KM | $37.21 | $42.52 | $47.84 | $58.47 |
Goodies guaranteed on race day if registered by 7/30, otherwise will be sold on race day if available.
Entrant Limit
400 Runners
Camping & Tent Rental
Camping is permitted in the competitive track parking lot near the start/finish. Camping permit (doesn't include vehicle park entry fee) = $12 available at park entry booth.
Bib/Shirt Pickup

Course Details
10 Kilometer | Elevation Profile | GPX
31 Kilometer | Elevation Profile | GPX
52 Kilometer | Elevation Profile | GPX
*Note on GPX files: Right click and select "Save link as…" to download GPX files. GPX files may be opened by downloading the demo version of TopoFusion for free.
Elevation Profiles


10 Km Profile ~ 395 Feet of Gain


31 Km Profile ~ 1,185 Feet of Gain


52 Km Profile ~ 1,975 Feet of Gain
Course Map
Aid Stations
There will be one remote aid station along the loop (~4.15 miles into course) in addition to the start/finish line.  Aid stations will offer water, electrolyte drink, sweet snacks, salty snacks, and fruit. Please plan to run with at least one bottle of water.
---
Directions
From Central Phoenix, head west on the I-10 freeway approximately 17 miles, then follow directions labeled "South" below.
NORTH: Connecting from the the I-17, from the North, take exit 221 for AZ-303. Travel south to exit at Peoria Ave, go west (right) to Cotton lane, turn left on Cotton lane, then right on Olive Ave.  Follow to park entrance.
EAST: If you are connecting from the 101 (coming from the East Valley), follow the 101 Loop West to W Northern Ave. Take exit 8 and turn right on Northern Ave. Continue on Northern Pkway to Glendale. Take exit toward N Sarival Road and turn right heading toward Olive Ave. Turn Left on to W Olive and follow to park entrance.
SOUTH: From I-10, take the exit toward AZ-303 Loop N. Continue onto AZ-303 North for 5 miles. Exit toward W Northern Avenue and turn left on Northern Ave. Travel to N Citrus Road (1.5mi) and turn right and follow until Olive Ave.  Turn left on Olive and follow 4 miles to park entrance.
Address
White Tank Mountain Regional Park
20304 W. White Tank Mountain Road
Waddell, AZ 85355
Results
2017 | 52Km | 31Km | 10Km
2016 | 52Km | 31Km | 10Km
2015 | 52Km | 31Km | 10Km
2014 | 63Km | 31Km | 10Km
2013 | 63Km | 31 Km | 10Km
Course Records
52 Km | Male – David Roberts – 4:41:49 ('16) | Female – Adela Salt – 5:19:41 ('17)
31 Km | Male – Arrick Nietert – 2:31:06 ('17) | Female – Lauren Coury – 2:31:50 ('17)
10 Km | Male – Nick Coury – 42:16 ('17) | Female – Kori Krichko – 51:32 ('16)
Old Course Records
63 Km | Male – Cristian Rios – 6:07:14 ('13) | Female – Jennifer Thompson – 7:35:50 ('13)