Jackass Night Trail
"I'm So Excited"
No Mo FOMO! Don't miss out on the ultra party of the year at the Javelina Jundred! The inaugural Jackass Night Trail is your ticket to the grooviest desert disco of your dreams! Tell your friends, your family, your crew, and your curious neighbors about the biggest most exclusive Jalloween Party Arizona has to offer. The only way to get there is on foot via the Javelina Jundred.  Join Jackass Justin "The Lip" Lutick, your disco King, and dance into the night.
"That's the Way" (I like it)!
Choose your distance: 31 Km or 62 Km
31 Km: Quench your curiosity by traveling one loop on the Javelina Jundred course. Spend as much or as little time at each unique aid station and enjoy the party at Jackass as long as you can handle.
62 Km: One loop not enough? Of course not. Ultra runners: challenge your endurance and take ultra to a new level; ultra run, ultra party! "Washing machine" style applies: your second loop goes the other direction!
"Night Fever"
Race kicks off Saturday, October 27th after the sun goes down!
| | |
| --- | --- |
| Time | Event |
| 4:00 PM | Packet pickup begins at Javelina Jeadquarters. |
| 5:41 PM | Sunset |
| 5:50 PM | Mandatory Race Brief & "Warm-Up" |
| 6:00 PM | 62 Km Race Start |
| 6:30 PM | 31 Km Race Start |
| 7:00 PM | Disco at Jackass Junction |
| 12:00 PM | (next day) All Races End |
Location:
"Javelina Jeadquarters" – Trailhead Staging / Four Peaks Staging Area
McDowell Mountain Regional Park
16300 McDowell Mountain Park Drive
Fort McDowell, AZ 85264
Directions
"I Will Survive"
Required Gear:
This is not your ordinary night race. We want to ensure everyone participating is prepared and appropriately dressed for this event.
Costume: Be festive, be ridiculous, be outrageous, be in costume. The RD will be checking!
A "Glow" Thing: i.e. glow sticks, glow makeup, glow shoes, glow onesie–Your choice but if you don't glow, you don't go.
Swag: Check your swag bag for additional required items (RD will advise at the race brief at 5:50 PM).
Headlamp or Flashlight
Please note a sense of rhythm is not required to participate in the Jackass Night Trail.
Boogie At Jackass Junction by Mike Hermsmeyer (2016)
"Y.M.C.A."
We have camping available at Javelina Jeadquarters and encourage all runners of the Jackass Night Trails to stay onsite. Cheer during the day or rest up for the evening. What happens at Jackass stays at Jackass but please party responsibility! All reservations for tents, RV camping or vehicle camping can be made HERE on Ultrasignup.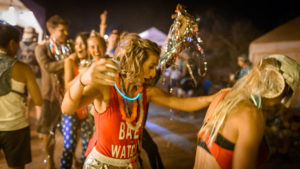 Awards
There will be no top awards for the Jackass Night Trails. Everyone wins an experience at Jackass Junction; take your time and enjoy the night. No PR's allowed.  
Park Entry Fee and Parking
McDowell Mountain Regional Park is part of the Maricopa County Parks System charges an entry fee of $6.00 per vehicle to fund park operations and improvements. Please bring correct change with you on race day to speed up the entry gate process.Bring cash for each vehicle or carpool and save!
Parking will be directed to the competitive lot across from the Four Peaks Staging (Javelina Jeadquarters). No parking is allowed within the Javelina Jeadquarters.
Rules
All rules of the Javelina Jundred and McDowell Mountain Regional Park apply to the Jackass Night Trails. Please respect the trails and the beauty of the desert by disposing of any trash at one of our aid stations.  Any runner found to be littering on the trail will be immediately disqualified from the race.
All partipants of the Jackass Night Trails, please respect the 100 mile and 100 km runners at each aid station. We want you to be the cheer leaders and inject new energy into the race after sunset! Encourage all of the runners on course and feel free to offer a high-five to those in the ultra distances. And please remember "don't be a Jackass." There is one Jackass at Jackass Junction and he can and will dismiss anyone who interferes or disrespects the race.
Address
16300 McDowell Mountain Park Dr.
Fort McDowell, Arizona 85255
Contact
Race Management: Aravaipa Running LLC
Race Director: Jubilee Paige
Email: jubilee@aravaiparunning.com