Javelina Jundred Race Briefing Video 2017
About
The 16th Annual Javelina Jundred presented by HOKA ONE ONE will take place October 27 – 28, 2018 staged out of the Four Peaks Staging Area at McDowell Mountain Regional Park north of Fountain Hills, Arizona. The 100 Mile distance will be comprised of one 22.3 mile loop that incorporates the Escondido Trail on the far East Side of the park and four 19.45 mile loops on the popular Pemberton, Shallmo, and Cinch Trails. The 100 Kilometer option will consist of the same course but will only complete the first three loops of the 100 Mile course.
The 100 Miler is a 2018 Western States 100 Mile Endurance Run Qualifier & the 100 Miler and the 100 Kilometer are 2019 UTMB Qualifiers (4 Points). Runners will reverse directions each lap of the race and will be supported by four on course aid stations per loop (Javelina Jeadquarters, Coyote Camp, Jackass Junction & Rattlesnake Ranch). Crew accessibility is limited to Javelina Jeadquarters (start/finish line) and pacers are welcome to join a runner after 3 loops for the 100 mile or after 5pm (whichever comes first). Pacers may join 100 km runners after 2 loops.
We have camping available at Javelina Jeadquarters and encourage crews to spend the day with us cheering on competitors and mingling at the start/finish.
Location
"Javelina Jeadquarters" – Trailhead Staging / Four Peaks Staging Area
McDowell Mountain Regional Park
16300 McDowell Mountain Park Drive
Fort McDowell, AZ 85264
Directions
Weather
The race typically features warm to hot afternoons and cold nights. The dry desert air in late October / early November and the rural location of the race tend to produce a large swing in race day temperatures, especially dramatic at sunset. While we typically see average highs around 82 degrees and an average low of 58 for this time of year, the race has seen temperatures into the mid-90's in the day and into the high 30's at night.
The course is open and exposed with little to no shade. When the sun drops behind the McDowell Mountains, the temperatures can go from 80 degrees to 50 degrees within an hour, turning your sweat drenched clothing into a cooling suit. It is not uncommon for our medical staff to treat head exhaustion in the day and a few hours later be dealing with hypothermia. Be prepared for all conditions.
Forecast for Fountain Hills, AZ
Event Expo & Bib Pickup
Join us this year for the all-day event Expo held at the beautiful La Puesta del Sol at Fort McDowell, Friday October 26th from 10:00AM to 6:00PM.   Receive your race goody bag, t-shirt and bib number with attached chip timing and stay to experience a taste of the wild west! This will be a great place to mingle around with fellow competitors, interact with our event sponsors, purchase Javelina Jundred branded gear and other supplies you may have forgotten at home. We will have a small store with running essentials sponsored by iRun of Phoenix, along with the Aravaipa Running Shop.  More details to follow on event details and activities as well as family fun adventures at Fort McDowell!
Friday, October 26: 10:00am-6:00pm
La Puesta del Sol Event Venue
14803 N Hiawatha Hood Road
Fort McDowell, AZ 85264
(480) 789-5302
If you arrive after 6:00pm Friday, we will have race day packet pickup at the Javelina Jeadquarters start line at McDowell Mountain Regional Park. We will begin check-in at 4:30am. You do NOT need to re-check in on race morning if you picked up your packet Friday night as our timing mats will pick you up at the start.
Saturday, October 27: 4:30am-6:00am (up to 7:00am for 100K)
Four Peaks Staging Area – McDowell Mountain Regional Park
16300 McDowell Mountain Park Drive
Fort McDowell, AZ 85264
Host Hotel
We are proud to partner again this year with the We-Ko-Pa Resort & Conference Center (formerly the Radisson Fort McDowell Resort). Discover the beauty, tranquility and culture of Arizona's captivating Sonoran Desert at the AAA Four Diamond We-Ko-Pa Resort & Conference Center!
The We-Ko-Pa has special rate rooms available for race participants this year and a beautiful setting for your stay during race week/weekend.  Call for a reservation at (480) 789-5300 ~ and ask for the Javelina Jundred room block in order to get the discounted rate. Alternatively, use this link to register online.
We-Ko-Pa Resort & Conference Center
10438 North Fort McDowell Road
Scottsdale/Fountain Hills, AZ 85264
(480) 789-5300
Aid Stations
The Javelina Jundred features four on course aid stations per loop around the Pemberton Trail: Coyote Camp, Jackass Junction, Rattlesnake Ranch (sponsored by Surprise Running Club), and Javelina Jeadquarters (Start/Finish). The longest distances between aid is the 6.5 miles between Coyote Camp and Jackass Junction, as well as the 6.6 miles between Rattlesnake Ranch and Javelina Jeadquarters on the first loop. We highly recommend a minimum of two water bottles for this stretch of trail beginning with loop 2.
All aid stations will be stocked with water, ice for personal use, Gatorade, carbohydrate drink, salt, sweet snacks, salty snacks, fruit and several "real food" options.
Drinks
Sweet Foods
Salty Foods
Real Foods

Water
Ice
Gatorade
Cola
Mt. Dew
Ginger Ale
Chicken Broth
Veggie Broth
Coffee
Tea

Pumpkin Pie
Chocolate Chip Cookies
Oreos
M&M's
Ginger Snaps
Crystalized Ginger
Bananas
Oranges
Watermelon
Other melons
Gummy Worms
Nutella

Salt Caps
Salt
Potato Chips
Pretzels
Pub Mix
Peanut Butter Pretzels
Trail Mix
Pickles

Boiled Potatoes
PB & J Sandwich
Bean Burritos
Bread
Tortillas (Corn & Flour)
Avocados
Potato Soup (Jeadquarters)
Ramen Noodles
Sub Sandwich (Jeadquarters
Pizza (Jeadquartes)
Burgers (Jeadquarters)
Quesadillas (Jeadquarters)
We've made a list of foods that we stock that are sometimes questionable for vegetarians and vegans while racing. We make our best attempt to offer a wide selection of foods for all runners. If you have a question about a specific item, please contact us.
Vegan Friendly Foods
Non-Vegan Foods

Daiya Non-Dairy Cheese (Ask for it)
All beans used (No Lard)
Potato Soup
Pretzels (No Egg)
Oreos
All fruit
Veggie Burgers
Veggie Broth

Pumpkin Pie
Gummy Worms
M&M's
Chocolate Chip Cookies
Nutella
If you know of someone who would like to volunteer at one of our aid stations, we offer our volunteers a race shirt and credit at a future Aravaipa Running event. All of our volunteer opportunities for aid station volunteers are located here: Javelina Jundred Volunteer Signup.
Litter & Restrooms
Please respect the trails and the beauty of the desert by disposing of any trash at one of our aid stations.  Any runner found to be littering on the trail will be immediately disqualified from the race.
We will have several portable restrooms located around the course on race day. There will be two portable restrooms at all remote aid stations (Coyote Camp, Jackass Junction, Rattlesnake Ranch), as well as two restrooms at the Pemberton Trail road crossing. If you must use the desert to relieve yourself, we ask that you "bury" your business at least 6 inches deep and do not leave any toilet paper in the desert (paper = litter, see rule above). There will additionally be more portable restrooms at Javelina Jeadquarters.
We will have both a trash dumpster and recycle dumpster at Javelina Jeadquarters and will be recycling all cardboard and plastics. Please help us by picking up your personal campsite and using the on site dumpsters.
Help us cut down on waste by bringing your own cup for use at aid stations. We also have re-usable Aravaipa branded Ultraspire cups available for purchase online HERE and at our event expo this year. This is not mandatory for the 2018 race but highly recommended.
Drop Bags
There are two locations for drop bags at the race where you may place a small bag with additional race supplies. If you have never used a drop bag before, we recommend a waterproof bag or container (or placing your items you don't want wet into a plastic bag) in case of rain. Inside, you may want food or nutrition items that are not offered at the aid station such as gels, chews or powders that you are used to training with. We also recommend placing your lights, extra batteries, extra socks or shoes and layers of clothing (gloves, jacket, beanie, long sleeves, rain jacket, etc.) for at night. We highly recommend labeling your drop bag with your name, bib number and aid station location.
One drop bag is for the start/finish line at Javelina Jeadquarters and can be accessed each loop. There will be a designated area near the turnaround point and timing mat where you can place your drop bag on race morning. These will be out in the open and not covered.
You may also have a drop bag for the Jackass Junction aid station located approximately half way around the loop that will be transported to the aid station on race morning. Please bring your bag to the designated area near the start line and label your bag with your bib # and "Jackass Junction". These will be transported to the aid station at 5:45AM on race morning and placed out in the open at the aid station.
Crews
The unique thing about the Javelina Jundred is that crew access is limited to only one aid station which is also the race start/finish line. Crews are only permitted at Javelina Jeadquarters where you will be able to see your runner roughly every 20 miles without having to drive anywhere! While we will have limited amounts of shade and chairs for crews, we recommend crews bring a chair or some shade and clothing for the weather (hats & protective sun clothing for the day and warm clothes for at night).
We will have wood fired pizza and some other snacks and drinks from Freak Brothers Pizza Company available for sale beginning at 10:00AM on race morning and going through the duration of the event. A coffee cart, Italian ice machine and kettle corn vendor will also be on hand during the race (some have limited hours). There will also be a bonfire on Saturday night for all crews as an added perk of the race. Feel free to bring some marshmallows to roast and stories to share.
Pacers
Pacers are allowed after 3 loops (61.2 miles) or at sunset, whichever comes first in the 100 mile race. Pacers for the 100k may join in after 2 loops (41.75 miles). Multiple pacers may be used, but only one at a time. To clarify the sunset rule: If you are leaving Jeadquarters at 5pm or later for your 3rd loop, you may have a pacer starting on loop 3.
Volunteer pacers may be available and should sign in at Pacer Central on race day, but race management will not provide or guarantee pacers for runners. All pacers must park at the competitive track lot and walk across to Javelina Jeadquarters.
Pacers will need to sign our waiver sheet located near the timing tent at some point on race day before pacing, but don't need to wear a pacer bib while out on the course.
We ask that pacers be on foot (no bikes) and while you can use multiple pacers, that you only have one with a runner at any given time. If you are searching for a pacer or you are available to pace please post here: Javelina Jundred Pacer Connection
Pacers must enter and leave each aid station WITH their runners. They may assist with the re-filling of water bottles or replenishment of supplies while in the aid station but may not come into the checkpoint ahead of their runners, or depart after their runners, in order to speed up the re-fueling process.
Health Policy
Aravaipa Running has decided upon the implementation of health policy measures during the 2018 Javelina Jundred 100 Mile.  This preventive action does not replace the current national and international regulations regarding anti-doping campaigns but aims to strengthen the medical supervision set up by the event organization, in accordance to their safety-health-assistance programme. These measures are managed jointly by the International Trail Running Association (ITRA), the Ultra-Trail World Tour (UTWT) and the event organization. This preventive action will be implemented by a medical commission, consisting of doctors, which can take advice from experts as it considers appropriate and which will be able to express a consultative opinion to the event organization's jury on the medical condition of participants.
Each participant agrees to:
1.   Declare to the medical commission the following information:
Any medical history and/or pathology which may increase the risks during vigorous exercise;
The use of any medicine;
The request or procurement of any Therapeutic Use Exemption (TUE) for any medicine or substance which is proscribed.
The declaration of this information to the medical commission must only be done through the health space that each participant can create for free on the ITRA website: www.itra.run
The medical information declared is accessible only to the medical commission and medical staff of the safety-health-assistance programme set up by the event organization.
2.   Provide any urinary, blood, hair and/or saliva samples and analyzes requested by the medical commission, provided that the costs involved in achieving these samples and analyzes are the direct responsibility of the event organization.​
3.   To answer any reasonable request from the medical commission so as to decide upon their capacity, or not, to participate in the race, it being understood that the medical commission can propose to the event organization, that the participant be excluded from the race for health reasons.
Any unreasonable failure, refusal or provision of erroneous information from a participant related to the health policy may result in disqualification from the event.
Race Timing & Webcast
We will be utilizing a chip timing system at this event to record your lap passing each time you come through Javelina Jeadquartes and at the finish. Results will be posted using "gun time" only.
Live lap splits will be available on our Ultracast on race day here: Aravaipa Running Ultracast.
The timing chip will be attached to the back side of your bib and is disposable after the event.  Bibs need to be worn on the front of your person and on the OUTERMOST layer of clothing. If you wear a jacket or sweatshirt over your race bib, we may not get your finish time! Please do not crease or fold your timing chip in any way as it may damage the chip.
Pets
Absolutely NO pets are allowed at Javelina Jeadquarters due to the size of the event.  While McDowell Mountain Regional Park does allow pets in other parts of the park as long as they are on a leash, we will be enforcing the no pets rule at Javelina Jeadquarters. We ask that you leave your pets at home. Thank you. If you are traveling from out of town with a pet, there are several pet resorts and kennels in Fountain Hills or nearby Scottsdale.
Park Entry Fee
McDowell Mountain Regional Park is part of the Maricopa County Parks System which normally charges an entry fee of $6.00 per vehicle to fund park operations and improvements. These parks are essentially self funded, meaning they do not rely on state or federal government assistance for their operations. One park entry pass for the weekend is included for all registered entrants and will be e-mailed out race week for printing. If a runner fails to print a pass, you may have to pay when you arrive. Additional crew or pacer vehicles will be required to pay the $6.00 park entry fee per vehicle per day. Please bring correct change with you on race day to speed up the entry gate process.
Parking & Start Area
The Four Peaks Staging Area will allow for camping, vehicle camping and RV parking throughout the race. There will be designated parking areas at the competitive track (just across the road from Four Peaks Staging Area).
Awards
Each runner finishing the 100 Mile race under the 30 hour cutoff will receive a Javelina Jundred 100 Mile finisher's belt buckle. Those completing the race in less than 24 Hours will receive a larger, Sub-24 hour Javelina Jundred finisher's belt buckle.
All runners completing the 100 Kilometer race under the 29 hour cutoff will receive a 100K finisher's belt buckle.
Please note that if you drop from the 100 Mile race, you will be listed as a DNF and not included in the 100K results even if you complete that distance. We will also no longer be offering the 100K buckle to those who DNF the 100 Mile distance.
All awards will be presented at the finish line when you complete your race.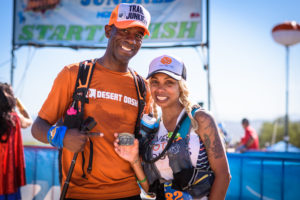 In addition, unique handmade Dia de los Muertos (Day of the Dead) themed awards will be given to individuals for the following:
Top Placing Awards
Other Awards

1st-3rd Place Male 100 Mile
1st-3rd Place Female 100 Mile
1st-3rd Place Male 100 Km
1st-3rd Place Female 100 Km

Best Male Costume
Best Female Costume
1st Virgin (Best placing first timer at Javelina 100 Mile)
Youngest Finisher (100 Mile)
Oldest Finisher (100 Mile)
Dead Last (100 Mile)
Geri K Most Memorable Performance
Best Ass
Best Team Finish (100 Mile)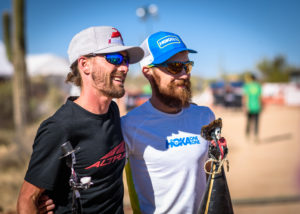 A few of our more unique awards in the "other" category deserve a little explaining. Many of these have been part of the race since its inception and contribute to the fun nature of the race. All awards are voted and/or decided upon by the race directors. Bribes and flattery are acceptable forms of getting more votes.
Best Costume
To the male and female runner who has the best costume. There are no rules for this award, but points are often awarded for originality, duration of costume being worn (and remaining fully in tact), most outlandish, "we can't believe you ran the full 100 miles in that costume", attitude, and cleverness. To help us with the voting this year, please submit your name and costume title ahead of time: Best Costume Sign-up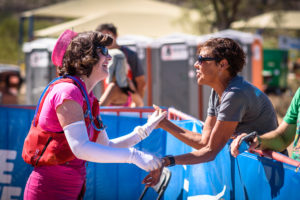 First Virgin
Goes to the fastest 100 mile finisher who has never attempted or finished the Javelina Jundred before.
Youngest / Oldest Finisher
We like to celebrate the range of ages at this event and have seen runners from early teens to mid-70's finish this race. The award goes to the youngest and oldest to complete the full 100 miles in under the 30 hour cutoff.
Dead Last
Goes to the last runner who completes the full 100 mile race in under the 30 hour cutoff. Yes, it has come as close as a few seconds in some years. We celebrate a nail biter of a finish.
Geri K Most Memorable Performance
Of course we give an award for our race founder and even name it after her as if she were dead. Well maybe she is and out haunting the course at night, maybe not and still laughing at you as she thinks about how many loops you have to run on the Pemberton Trail. If you know Geri, you'd immediately understand why her award typically features a skeleton on a stripper pole. We award this based upon guts, determination, craziness, loudness or anything else memorable.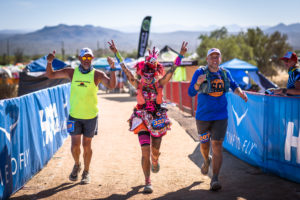 Best Ass
Yup, this one involves a little bit of nudity. Race directors pick. Show 'em your ass.
Best Team Finish
We award the best team finish to the lowest combined 100 mile finish time of your team. Teams are comprised of two runners and often times are related or close friends (husband/wife, siblings, best friends, parent/child). Just sign-up and make sure you push each other to a full 100 mile finish: Best Team Finish Sign-Up
Five Time Finishers
If you can stand running with us year after year and accumulate five 100 mile finishes, we have a special jacket waiting for you at the finish line.
Awards Ceremony
An awards ceremony will be conducted at 10:00am Sunday, October 29th where we will present awards for the top finishers in the 100 mile and 100K, Five time finishers, as well as most of the "other awards!" Additional awards that are not able to be handed out at 10AM will be done at at the conclusion of the event around 12:15 PM on Sunday, October 29th.
Volunteers
Volunteers are the life blood of our sport and the Javelina Jundred is no different. Come help the dreams and goals of our runners become a reality on race day by volunteering. A listing of our current available volunteer opportunities are available here: Javelina Jundred Volunteer Signup
Race Day Schedule
Friday, October 26
Time
Event
7:00 AM
Javelina Jeadquarters opens for camping check-in and setup.
10:00AM – 6:00 PM
Expo and bib pickup at the La Puesta del Sol Event Venue, Fort McDowell AZ.
iRun will setup a mini store with trail running goodies like gels, body glide, socks, and lights.
8:00 PM
Light's out / quiet in camp.
Saturday, October 27
| | |
| --- | --- |
| Time | Event |
| 4:45 AM | Packet pickup begins at Javelina Jeadquarters. |
| 6:00 AM | 100 Mile Race Start |
| 6:18 AM | Begin Civil Twilight |
| 6:43 AM | Sunrise |
| 7:00 AM | 100 Km Race Start |
| 10:00 AM | Freak Brothers Pizza Company begins cooking |
| 11:00 AM | Sub Sandwiches arrive at Javelina Jeadquarters |
| 3:00 PM | Pizza arrives at Javelina Jeadquarters |
| 5:41 PM | Sunset |
| 6:00 PM | Jackass Night Trail 62 Km Race Start |
| 6:30 PM | Jackass Night Trail 31 Km Race Start |
| 7:47 PM | Men's 100 Mile Course Record Pace |
| 8:00 PM | Burgers served at Javelina Jeadquarters. Yes, veggie available. |
| 8:52 PM | Women's 100 Mile Course Record Pace |
Sunday, October 28
Time
Event
6:00 AM

100 Mile Runners: Four loop cutoff (80.65 miles) – Runners must start loop five by 6:00am (24 hours)
100 Km Runners: Two loop cutoff (41.75 miles) – Runners must start loop three by 6:00am (23  hours)

6:00 AM
Sub 24-Hour Buckle Cutoff
6:19 AM
Begin Civil Twilight
6:44 AM
Second Sunrise
12:00 PM
All Races End / 30 hour & 29 hour cutoffs /
Directions
The closest airport is Phoenix Sky Harbor (PHX) which is a 55 minute drive from the park. Coming from Phoenix, take the Loop 202 East to Country Club Drive/ Hwy 87. Turn left and drive north for 12 miles and turn left on Shea Blvd. Travel .6 miles and turn right on Saguaro Blvd. Take this 4 miles until it ends at Fountain Hills Blvd and turn right. Continue on Fountain Hills Blvd as it turns into McDowell Mountain Drive and look for signs to turn left into McDowell Mountain Park.
Address
16300 McDowell Mountain Park Dr.
Fort McDowell, Arizona 85255
Contact
Race Management: Aravaipa Running LLC
Race Director: Jubilee Paige
Email: jubilee@aravaiparunning.com
Phone: (602) 346-0554